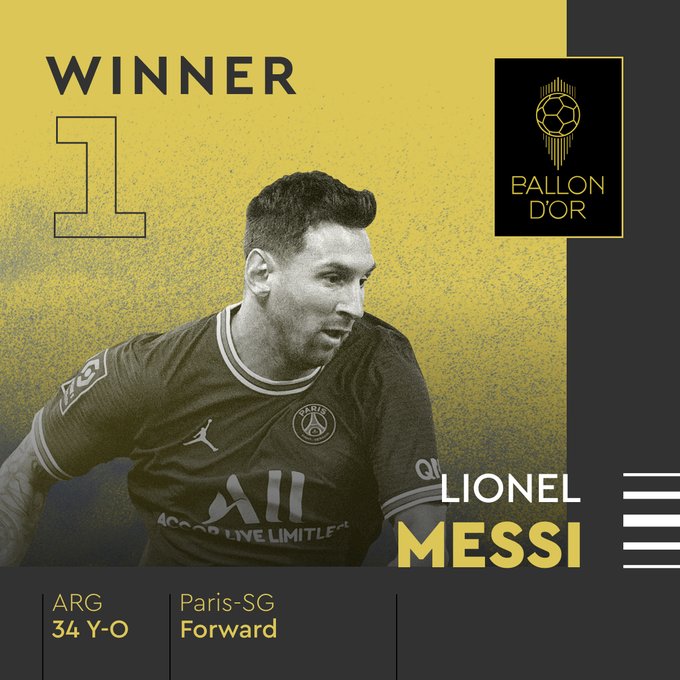 Messi Wins 7th Player Of The Year Award. /PHOTO CREDIT; TWITTER
Argentina striker and PSG club Lionnel Messi was crowned the world's best player known as the Ballon D or 7 times on Monday night at the Theater du Chatelet in Paris, France.
Messi, who led Argentina to win the Copa America in July in Brazil for the first time since 1993, moved to Paris St Germain in August last year from Barcelona where he played for 21 years, scoring 30 goals and earning a job by winning the Copa Del Ray. being Catalan.
Messi was crowned the winner with 613 points, Lewandowski followed with 580 points, Jorginho took third place with 460 points, followed by Karim Benzema of France and Real Madrid with 239 points while N'golo Kante of Chelsea and France scored the best five with 186 points. .
Robert Lewandowski emerged second after scoring 41 goals in 29 Bundesliga matches.
Messi and Cristiano Ronaldo have won the Balon D'Or 12 times together in 13 articles.
However Ronaldo finished 6th overall, if for the first time failing to be among the top three in the award.
The position of the balloon D'or
1ST - Lionel Messi (613 points)
2nd - Robert Lewandowski (580)
3rd - Jorginho (460)
4th - Karim Benzema (239)
5th - N'Golo Kante (186)
6th- Cristiano Ronaldo (178)
7th - Mohamed Salah (121)
8th - Kevin De Bruyne (73)
9th - Kylian Mbappe (58)
10th - Gianluigi Donnarumma (36)
Alexia Putellas of Barcelona and Spain won the Ballon d'Or for women
Lewandowski won the striker of the year award while the Yashin Trophy of the best goalkeeper of the year award went to PSG and Italy's Gianluigi Donnaruma.
List of award winners
Ballon d'Or - Lionel Messi, Paris Saint-Germain
Ballon d'Or Feminin - Alexia Putellas, Barcelona
Kopa Trophy (Best player under 21) - Pedri, Barcelona
Striker of the Year - Robert Lewandowski, Bayern Munich
Yashin Trophy (goalkeeper of the year) - Gianluigi Donnarumma, Paris Saint-Germain